A Brief History of the Church
Our church history is closely interwoven with that of Wilmington itself. In Puritan times, a town was not considered complete until it had a church and a minister. On September 17, 1730, an Act of Incorporation was granted by the Commonwealth separating the town of Wilmington from the Woburn Township. This Act stipulated that the inhabitants of the town would have three years in which to "settle a minister and erect and furnish a suitable dwelling for the Public Worship of God". With only ten weeks before the allotted time was up, these requirements were met. The church was then organized on July 12, 1733, with seventeen members.
For more than its first hundred years, the church was financially supported by the town as was the custom in colonial days. In 1834 a parish society was formed which took over the support of the church from the town. In 1887, our church was incorporated and the property rights transferred to it. It was at that time that the name of the church was changed from "The Church of Christ in Wilmington" to its current proper name, "The Congregational Church in Wilmington".
The original church building, which was completed in late 1732, was repaired and enlarged in 1765 to help meet the needs of a growing population.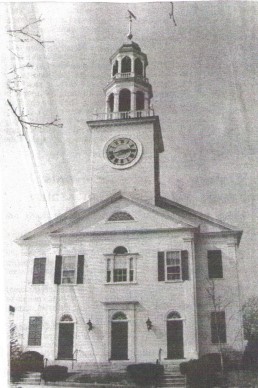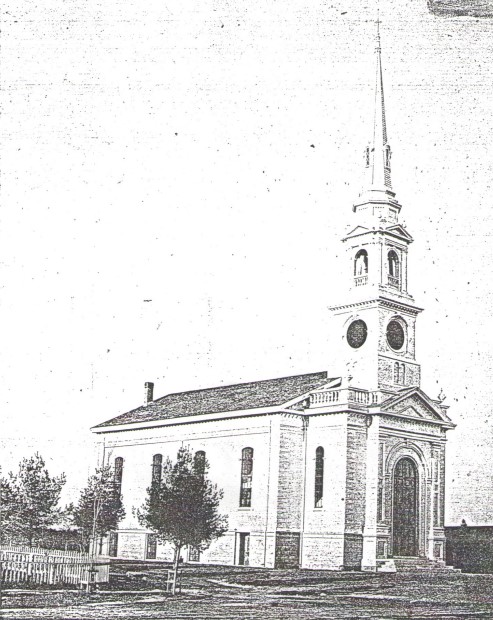 In 1813 the "meeting house", as it was called, was replaced with one that included the first steeple. Unfortunately, this structure was totally destroyed by fire in 1864. This picture, of another church, is said to resemble what was our second "meeting house".
The church was rebuilt and two years later in 1866, the present church was dedicated. Our traditional New England church with its tall spire has become a historical landmark. The town clock, which resides in the steeple, was a gift from a town resident in 1887. The bell was presented to the church by the Ladies Benevolent Society in 1869. The structure of the church remained essentially unchanged until the "Parish House" was added in 1952 to help with the growing need for more church school and office space.